About Jon Liebman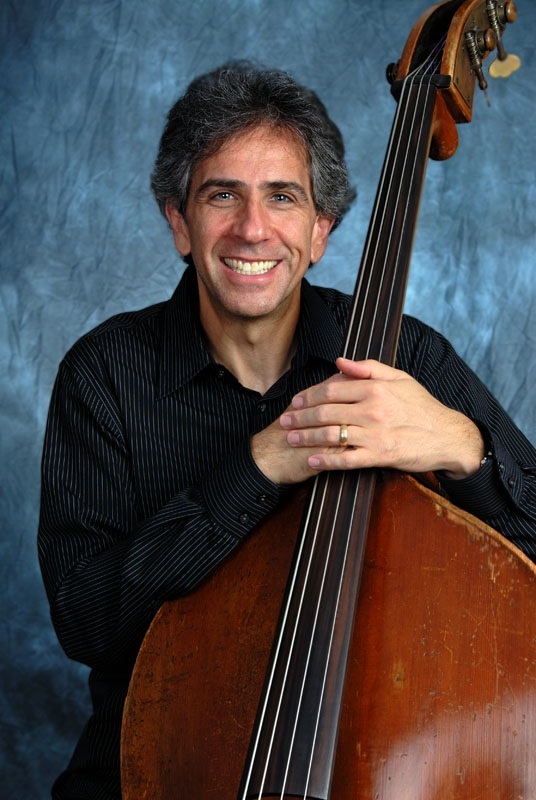 Jon Liebman is a world-renowned, award-winning bassist, composer, arranger, author and educator. He has played electric and acoustic bass in every imaginable setting, from jazz gigs and club dates to full-scale concerts and nationally broadcast radio and TV shows.
Jon has performed in many of the world's major concert venues, including New York's Madison Square Garden, LA's Shrine Auditorium and Tokyo's spectacular Suntory Hall (not to mention bull rings in Central America, amphitheaters in the Caribbean and all kinds of "off-beat" settings across the globe).
Throughout the course of a career that began over thirty years ago, Jon has performed and/or toured with a wide range of musical acts, including: Amy Grant, Cleo Laine, Buddy DeFranco, Billy Eckstine, Eartha Kitt, The Drifters, The Platters, The Coasters, The Chiffons, The Ink Spots, The Fifth Dimension, Julio Iglesias, Jose Feliciano, Chita Rivera, Theodore Bikel and countless others.
Liebman has performed in the pit orchestras of many Broadway shows, including Dreamgirls, Ain't Misbehavin', Phantom of the Opera, Les Miserables, Fiddler on the Roof, Oliver!, A Funny Thing Happened on the Way to the Forum, Golden Boy, Kiss of the Spider Woman, Annie and many others. He's also supplied the bass tracks for major recording projects for clients which have included Ford, GM and the NBA.
Jon has written six books for Hal Leonard Corporation: FUNK BASS, FUNK/FUSION BASS, ROCK BASS, BLUES BASS, BASS GROOVES: THE ULTIMATE COLLECTION and his newest release, BASS AEROBICS. He is also the author of a book of transcriptions of the music of fellow bassist, Stuart Hamm. Jon's books have sold nearly 100,000 copies throughout the world in English, French, German and Japanese. Jon has also worked as a freelance writer and arranger and has had his arrangements performed on The Tonight Show, The Late Show and other programs.

For over twenty years, Jon has worked in higher education and currently serves as the Chairman/CEO of the Specs Howard School of Media Arts in Southfield, Michigan. He is a former board member and vice chairman of the Career College Association in Washington. Jon makes frequent trips to our nation's capital on behalf of career schools and career school students. Liebman is past president of the Michigan Association of Career Colleges & Schools and former chairman of the Southfield Area Chamber of Commerce. In 2005, Jon was appointed by Governor Jennifer Granholm to the Michigan Higher Education Authority. Jon is a past inductee into Crain's Detroit Business "40 under 40" group of rising young businesspeople. In 2008, Jon was named one of the 25 most influential people in the career college sector by Career College Central magazine.
Jon Liebman has a Bachelor of Music degree in Studio Music & Jazz from Wayne State University in Detroit and a Master of Music degree in Studio Music & Jazz from the University of Miami in Coral Gables, Florida. He lives with his wife Mindy and has four children.


Be sure to visit (and "like") the new Jon Liebman Facebook page. Click
here
!
Follow Jon on Twitter too by clicking
here
!
Check out Jon's online bass series, too!
Reviews of Jon Liebman's books


FUNK BASS


20th Anniversary Edition, now available!
John Patitucci:
1992: "I have never seen a better book from which to learn this style. I recommend FUNK BASS to all 'slappers' and 'wanna-be slappers.' It's a can't miss!"
2012: "Twenty years have passed and Jon's book is still relevant, helpful and practical. I think it is also important that he is stressing that the 'feel' of the music is the most important of this style (any style, really)."
Wil Lee:
1992: "This book provides a good basis for what funk is really made of!"
2012: "After all these years, FUNK BASS is still one of the best books I've ever seen covering the slapping technique."
Stuart Hamm:
1992: "Well done, Jon! One of the most thorough books on 'slapping' and 'popping' ever written! FUNK BASS covers everything from the basics to the finer points, all in a very easy to understand and entertaining way. I would feel good about recommending this book to anyone who wants to learn this style of bass playing!"
2012: "Still one of the most thorough and helpful method books anywhere. A must-have for any aspiring bassist."
Mark Egan:
1992: "An excellent approach for the serious player who wants to get the slapping technique together. From beginner to advanced, this book is a valuable tool."
2012: The reason there's a 20th anniversary edition of FUNK BASS is because it is a great and timeless book. From beginner to advanced, this book continues to be a valuable tool for learning the slap bass technique. Congratulations, Jon!"
Neil Jason:
1992: "A great study for musicians looking to learn, or improve upon, their slap technique."
2012: "Twenty years later, FUNK BASS is still one of the best studies for slap technique."

Brian Bromberg:
1992: "This is an informative book covering various aspects of the funk/slapping technique. I especially like the section on equipment and effects. This is very useful information!"
2012: "Twenty years later, it's still a great book. Nice job, Jon! Can't believe it's been twenty years. Holy crap!"

Rich Appleman:
1992: "Very informative for this contemporary style of bass playing. Includes basic, fundamental material, as well as the more advanced topics. Includes much valuable written information in addition to the music. This is the first time I have ever seen all this type of information assembled in one source. I would recommend this book to all those bassists interested in the funk style of playing."
2012: "Throughout my teaching career, I've seen a lot of slapping books and Jon Liebman's is still the best. Twenty years have gone by and I'm still recommending FUNK BASS to all my students who want to learn this style. Why not stick with what works?"
Bob Cranshaw:
1992: "An excellent primer for the thumb because the explanations are very clear and concise...excellent information for practice and performance. This book also includes great instructions and excellent advice. Thumbs up!"
2012: "To all bass players: If you want to get your thumb-popping funk groove, FUNK BASS is still a great primer, twenty years later. This is recommended reading for all my students."
Click

here

for product description and info on how
to order your autographed copy of FUNK BASS!


FUNK/FUSION BASS
"FUNK/FUSION BASS is an enlightening and refreshing book. I recommend it highly."
- Verdine White, bassist with Earth, Wind & Fire
"A cornucopia of bass stuff! History, technique, musicality, groove... Guaranteed to 'fill the holes' in your playing!"
- Steve Bailey, bassist with The Rippingtons, David Benoit, Larry Carlton, Dizzy Gillespie, Lynyrd Skynyrd, Jethro Tull ...
"FUNK/FUSION BASS by Jon Liebman is a great spectrum of information. Easily understood and simply done. I really loved the emphasis on groove and foundation (that's our job!). Definitely worth picking up."
- Francis Rocco Prestia, bassist with Tower of Power
"It's not every day you find a book that addresses he most practical needs of the modern-day bassist. This is one of the most comprehensive publications dealing with the study of bass guitar on the market today. As serious bassists, we have a responsibility to stay on top (and bottom) of the development of our concept and technical skills. Therefore, I highly recommend this book."
- Nathan East, bassist with Fourplay, Phil Collins, Eric Clapton
"There's a lot of good information in this book. Thanks, Jon, for your knowledge."
- Victor Wooten, bassist with Bela Fleck & the Flecktones
"The examples contained in this book are inspiring and above all, very enjoyable. I found myself completely lost and full of creativity with these ideas. I invite you to try and enjoy, too."
- Abraham Laboriel, L.A. studio legend
Click

here

for product description and info on how
to order your autographed copy of FUNK/FUSION BASS!


ROCK BASS
2nd edition, with foreword by Billy Sheehan now available!
Order your autographed copy here!
"Jon Liebman's wonderful book and accompanying CD, Rock Bass, is an essential tool for any bassist looking to expand their horizons as a player, or to reinforce all that they may already know into a more solid foundation. Sitting down and working your way through this book will most certainly bring new ideas and approaches to any bassist who takes the time. And it will be time well spent. Bass on!
- Billy Sheehan (David Lee Roth, Steve Vai, Mr. Big, Niacin, the Winery Dogs)
"Rock Bass by Jon Liebman is a must-have for bassists of every generation and genre. The sections detailing the development of music as a reflection of the social and political events of each decade since the '50s alone is worth the price. The significant amount of information within the pages of this outstanding book and accompanying CD will help you define your unique role as a bass player. I love this book!!!"
- Rudy Sarzo (Ozzy Osbourne, Blue Öyster Cult, Quiet Riot, Dio)
"Vocabulary in language is essential. The same holds true in music. The more musical 'words' you know, the better you'll be able to express yourself. You'll have more confidence when jamming with new people. You'll find yourself combining bits and pieces from different eras and styles into your own unique approach. Jon Liebman's Rock Bass will provide you with that vocabulary. It's completely packed with great riffs and runs from every planet in the pop music solar system. Whether you learn it from cover to cover or jump into each section as the need arises, you'll soon be 'speaking' the language. I wish I'd had this book when I was starting out!"
- Tom Hamilton (Aerosmith)
"Jon Liebman's Rock Bass book has a wonderful variety of bass lines to learn or play with, each in a pocket of its own. I like, too, how he's put them in all the keys, further helping players improve their chops."
- Tony Levin (King Crimson, Peter Gabriel)
"Jon has captured the essence of the evolution of rock bass styles as it was influenced by what was going on during each decade of rock & roll. If you weren't there, this book will give you an understanding of how it was and why we play what we do."
- Tim Bogert (Vanilla Fudge; Cactus; Beck, Bogert & Appice)
"I love the way Rock Bass recounts the historical events that gave rock & roll its spirit. The educational and user-friendly bass lines in this book should inspire players at all levels and help develop the ever-growing vocabulary of licks."
- David Ellefson (Megadeth)
"Rock Bass is a must-read, whether you are a beginner, intermediate or advanced pro bass player. It's full of important and comprehensive info!
- Marco Mendoza (Thin Lizzy, Whitesnake, Black Star Riders)
"Wanna try big time this stuff Jon Liebman's cooked for the rock side of bass guitar. Already digging his context, writing on the history side of things, which makes sense in lots of ways, especially for those just starting out who wanna get wet with more than just scales and transposed paint by numbers. Watt's view: Recommended!"
- Mike Watt (Iggy & the Stooges, the Minutemen)
"Not just a bass book, Rock Bass by Jon Liebman is a comprehensive rock music journey seen through the groove of the bass guitar. Rock Bass has the nuts, bolts and fundamental material to take anyone's playing to the next level. I am really impressed with this book!"
- John Moyer (Disturbed, Adrenaline Mob)
Click

here

for product description and info on how
to order your autographed copy of ROCK BASS!


BLUES BASS
READ THESE COMMENTS FROM PEOPLE WHO BOUGHT BLUES BASS:
"A great book by a great writer. I thought I knew mostly everything about blues on bass, but yet again the old cliches jump in and chop you down: 'There is always someone better than you.' I knew nothing in comparison with this book. LIEBMAN ROCKS!"
- John (England)
"Great book! This is the best book for beginners. The tabs, tempo and grooves are very easy to understand. The more scales/modes you know, you can find easier/better ways to play the grooves."
- Jeff (Texas)
"An excellent book. I pick this book up several times every week and learn something new each time. Liebman really breaks blues bass playing down in this title. I enjoy it immensely!"
- Stewie Bluesistan
"I find this an excellent book to learn blues patterns from. Includes several types and styles in 12 bar, 8 bar, 16 bar, 12/8, 3/4, 5/4, 7/4 times, and in a number of tempos. They're complete riffs that you can repeat and embellish for a song-length pattern. If you happen to jam with groups, it will really be indispensible! I use the play-along while in the car, to train my ear more, and get used to hearing them and learning them by rote. Usually practicing, I use the book only. Will take a riff, and play it over and over until I get it smooth and memorized. Sounds much more like I'm actually playing songs than many other books do. To me, this is an excellent book, and I use it several times a week!"
- Karl (Chicago)
"Great for anyone learning the blues. Many patterns and grooves to learn from and expand upon. Fun to play along with."
- Jimi (New York)
Click

here

for product description and info on how
to order your autographed copy of BLUES BASS!

BASS GROOVES: THE ULTIMATE COLLECTION
"This is the real deal! Jon covers all the basics you need to learn reggae, heavy metal, hip-hop, funk, soul, gospel, country, blues and much more. Bass Grooves: The Ultimate Collection may be the most valuable book of its kind since Standing In The Shadows of Motown."
– Will Lee, bassist, The Late Show with David Letterman
"Definitely worth checking out!"
– Francis "Rocco" Prestia, bassist, Tower of Power
"My old friend Jon did a wonderful job with BASS GROOVES: THE ULTIMATE COLLECTION. This is a great resource to learn how to play all kinds of bass grooves in many different genres of music. His bass lines are well thought out and very easy to hear as well as to read. It is also very cool that he panned the bass to one side of the stereo mix so you can totally isolate his parts to hear them very clearly to help you learn."
– Brian Bromberg, bassist with Jeff Lorber, Lee Ritenour, Billy Cobham, solo artist
"Once again, Jon has put together a thorough and engaging book. I enjoyed reading through it and checking out the grooves, and it will be invaluable to my nine-year-old daughter, who is an emerging bassist!"
– Stuart Hamm, bassist with Joe Satriani, Frank Gambale, BX3, solo artist
"This book is great! It will expand your mind with pockets of groove and different feels for the bass. Definitely the stepping stone to becoming a great player!"
– Ralphe Armstrong, bassist with John McLaughlin/Mahavishnu, Jean-Luc Ponty, James Carter
"Jon has really put a lot of work into this book – good job! It will go a long way toward understanding how bass lines are constructed."
– Benny Rietveld, bassist with Miles Davis, Sheila E, Santana
"Jon has created hundreds of important bass lines and put them into many must-know grooves, giving you style, theory, technique, reading, listening, time, tonality, timber and taste. Take these grooves – and steal them – because they represent a great vocabulary."
– Rich Appleman, Chair, Bass Department, Berklee College of Music
"When you are on your musical journey, you need to explore going different directions and places. Jon Liebman's BASS GROOVES will be one place you will definitely want to visit."
– Bob Babbitt, bassist with The Funk Brothers
"Lots of great grooves to practice, lots of playalongs ... very cool."
– Alexis Sklarevski, bassist with Crosby, Stills & Nash; Manhattan Transfer; Jackson Browne; Dweezil and Ahmet Zappa

"Anyone who works all the time is most likely a musical chameleon. If you learn everything in this book you may grow scales and a tail.... and never have another night off."
– Steve Bailey, bassist with Dizzy Gillespie, The Rippingtons, Larry Carlton, Lynyrd Skynyrd, Jethro Tull
Click

here

for product description and info on
how to order your autographed copy of
BASS GROOVES: THE ULTIMATE COLLECTION!


BASS AEROBICS
"I recommend Bass Aerobics to players who wish to dive into segmented lessons and come up a better player on the other side. Well done, Jon!"
- Jeff Berlin
"Bass Aerobics by Jon Liebman is a valuable tool for all serious bassists. An absolute must-have!"
- Leland Sklar (L.A. studio legend)

"Bass Aerobics opens up many musical possibilities and at the same time improves your skill as a bass player. A great approach to the endless challenge of making your groove happen!"
- Jerry Jemmott (Atlanta Records/Muscle Shoals pioneer; Bassist with Aretha Franklin, King Curtis, B.B. King, Wilson Pickett, Roberta Flack)

"In Bass Aerobics, Jon Liebman puts you through your finger exercises and reading paces while still managing to keep it fun and ensemble-based. Jon takes you along simply enough at the beginning, but before long he's got you moving through some pretty sophisticated etudes, all the while keeping the emphasis on reading and grooving. This is a great tool. Great preparation for most anything you might encounter in the musical real world. Well done, Jon!"
- Darryl Jones (Bassist with Miles Davis, Sting, Madonna, the Rolling Stones)

"Jon Liebman's newest book, Bass Aerobics, is unique because it is filled with great material presented in a very usable, musical fashion. Check it out!
- Dave LaRue (Bassist with Steve Morse, the Dixie Dregs, Steve Vai, Joe Satriani, Eric Johnson)

"The Bass Aerobics book sheds some light on the realities of playing the bass guitar. Having solid foundational skills is absolutely necessary in order to become the best musician you are capable of being."
- Alphonso Johnson (Bassist with Weather Report, Billy Cobham, George Duke, Santana; solo artist)

Bass Aerobics by Jon Liebman is jam-packed with wonderful exercises. Jon has created a very musical, fun way to practice, while improving your skills! It's also great to have the CD to listen to and play along with. I've thoroughly enjoyed working out of this book. Bass Aerobics is a fantastic book to add to anyone's practice regime!
- Jimmy Haslip (Bassist with the Yellowjackets; composer, producer)

"Truly an impressive compilation of valuable material for the working bassist. With Bass Aerobics, Jon Liebman manages to find a perfect balance between the realm of exercise and the world of working knowledge. No matter what level you are on or which style you currently like, this book will get you on the fast lane to reading music, as it contains both tab and standard notation plus a vast variety of styles and key signatures. Bass Aerobics is meticulous, intelligent, creative, relevant and fun. An essential addition to your modern bass library."
- Kai Eckhardt (Bassist with John McLaughlin, Billy Cobham, Garaj Mahal)
Click

here

for product description and info on how to
order your autographed copy of BASS AEROBICS!