FBPO visits the Warwick headquarters in Markneukirchen, Germany, for a star-studded week of everything – and everyONE – bass!
By Jon Liebman
September 29, 2014
It's been a few weeks, but I'm still on a high (er… a low?) from attending the third annual Warwick Bass Camp and Open Day, September 1-6.  The week-long event is the brainchild of longtime bass buddies Victor Wooten and Steve Bailey, hosted by Warwick's founder and owner, Hans-Peter Wilfer, and flawlessly administered by Ove Bosch, Head of Bass Camp, along with Warwick's incredible staff.  More than 80 students from over a dozen countries experienced a nonstop week of bass lessons, master classes, jam sessions and informal gatherings, all taking place at the Warwick & Framus headquarters in Markneukirchen, Germany.
In addition to Bailey and Wooten, the list of "professors" was comprised of  bassists Adam Nitti, Bobby Vega, Alphonso Johnson, Kevin "Brandino" Brandon, David Ellefson, Gary Willis, Andy Irvine, Lars Lehmann, John B. Williams, Stu Hamm, Hellmut Hattler, Armand Sabal-Lecco, Jonas Hellborg and Wolfgang Schmid, as well as non-bassists Regi Wooten and Chester Thompson.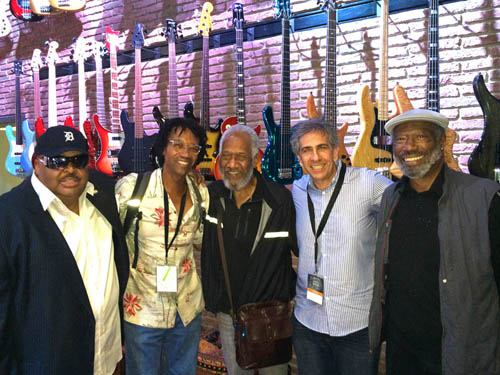 L-R: Ralphe Armstrong, Alphonso Johnson, Chuck Rainey, Jon Liebman, Jerry Jemmott
Also on hand to enjoy the week were notables and legends Chuck Rainey, Bakithi Kumalo, Jerry Jemmott, Ralphe Armstrong, Igor Saavedra, Antonella Mazza, Phil Chen, Divinity Roxx, Kai Eckhardt, Norwood Fisher, Ryan Martinie, Emma Anzai, TM Stevens, Marco Mendoza, Steve Lawson, Ed Friedland, Tom Bowlus, Neil Taylor, Evan Brewer and dozens of bass enthusiasts from the U.S., Europe and beyond.  A special shout-out goes to Adam Wooten, Victor's remarkably mature 13-year-old son, who performed and jammed on drums throughout the week, proving he can hold his own with the best of them.
The week culminated with "Open Day" on Saturday, as thousands of music fans of all ages descended upon Markneukirchen for a full day (and evening) of music, food, drink and fun.  This year's Open Day included performances by the Andy Irvine Group, Siyou'n'Hell, the Wootens, Dave Roe, Mass Mental (featuring Metallica's Robert Trujillo with bassist Armand Sabal-Lecco and vocalist Benji Webbe) and Nik West.  If you weren't there, hopefully the video and photo gallery below will serve as a suitable "next best" thing.  The event was co-sponsored by Gitarre & Bass magazine.
 See our video and photo gallery!