Pioneering female rocker shares insights on new "Suzi Q" documentary
By Gary Graff
June 29, 2020
There were women in rock 'n' roll before Suzi Quatro, but with a Fender Precision slung around her shoulder and a tight leather suit, she certainly blew open another door as a worldwide sensation during the early '70s. Hailing from a musical family in suburban Detroit, Quatro was already a veteran, playing with her siblings in the all-female bands the Pleasure Seekers and Cradle, when Mickie Most lured her to England in 1971 to become a solo artist. She reeled off a set of hits — "Can the Can," "Devil Gate Drive" and the Top 5 "48 Crash" — launching a career filled not only with music but also three seasons as Leather Tuscadero on TV's Happy Days, British TV roles, starring appearances in the stage musicals Annie Get Your Gun and Tallulah Who?, radio programs for the BBC, a memoir (Unzipped), a poetry book (Through My Eyes) and an upcoming illustrated lyric book. Quatro's latest album, No Control came out during 2019, and she's now the subject of a revealing new documentary, Suzie Q, which premieres online July 1 and opens wide on July 3 via Video on Demand and home video.
FBPO: Music was part of your DNA, so there was probably no doubt that was what you'd do, eh?
Quatro: From very young, I wanted to be an entertainer. In fact, my first passport, you had to put down your occupation, and everybody put musician. Guess what I put? Entertainer. I remember looking at everybody else's and going, "Oh, that's interesting," because I put something different. But I realized very early on I had the ability to hold an audience, so that made me want to do this as my profession — and of course we come from a very musical family, so music was an obvious choice. I do love acting just as much, I must say, but music has just got the edge.
FBPO: How did you wind up playing bass, which was not considered a "girl" instrument back in the mid-'60s?
Quatro: Well, I played bongos first at seven. I got quite good at that. Then I started on piano and I studied classical piano for some time. One of my teachers was the pianist for the Detroit Symphony, so you're talking serious teachers. Then I went from there to percussion, so I could read, write and play piano and percussion, and I got first chair in the school orchestra, which was brilliant 'cause I beat out all the guys. (laughs) And then at 14, when we started the all-girl band…We all got together on the phone after seeing the Beatles and everybody was shouting and screaming, and everybody picked an instrument real quick. I didn't speak up quick enough, so at the end of the screaming and shouting my sister Patti said, "You're gonna play bass." I said, "OK." I didn't mind.
FBPO: Of course, you had to get a bass, too.
Quatro: (laughs) I went to my dad, who was a musician. I said, "Do you have a bass? We're starting a band." He said "sure" and he gave me — this makes musicians green — for my first bass, at 14, I got given a 1957 Fender Precision, gold scratch plate, sunburst, with a stripe up the back of the neck. Are you green? (laughs) I still have that bass, by the way. It sits in my front room.
FBPO: What bass influences did you have, or did you acquire once you started playing?
Quatro: Well, Detroit, you know? Motown. I am a Motown fanatic — I can still do all the Temptations routines! (laughs) So, of course, I modeled myself on (James) Jamerson. There's nobody better, right?
FBPO: That's a pretty heady guy to model yourself on when you're 14 years old.
Quatro: I would just jam along to early Motown, and (Jamerson) gave me a real different look at playing bass when I started studying him. He'd do a little lick or phrase, but then when it came around the next time he didn't do that. He played it differently. So he keeps you on your toes. And he is the absolute master of space in a bass line. He makes you hear notes in the spaces that he isn't playing. It's quite something. It's the spaces that matter with a bass line. You're laying it down and laying it down and you leave that hole, and that hole is so powerful and you're waiting for, waiting for the bass note to come, but it still feels like it's there even if it isn't. I have modeled myself from that style.
FBPO: Who else was influential?
Quatro: I used to jam a lot to Canned Heat, and to Otis Redding. When I jammed to Otis Redding, which is Donald "Duck" Dunn and Steve Cropper, I find that without knowing the bass lines he's gonna play, I play the same bass lines, which is very strange. I finally met Steve Cropper; We were doing a function together, and I told him this story. I said, "You now, Steve, I play the same bass lines." And he said, "I know the reason for that." I said, "What?" He said, "Because they're right," (laughs) which I love.
FBPO: What was it like being in an all-female band back in the '60s? Did you get your props from the rest of the scene?
Quatro: I was never bothered at all. I just wanted to be in a band; I didn't give a shit if it was an all-girl band. That was never my focus. I don't do gender — never have. To this day, I don't think of myself as a female musician. I am a musician."
FBPO: What's it like to see your life on film in Suzi Q?
Quatro: It's everything I wanted it to be, it really is. There's maybe nothing I didn't know, but it cemented some things. I saw that I'm very, very determined. Everybody's always told me that and I never quite noticed it, but boy, am I determined. (laughs) And I'm tough because I walked through the fire and I survived. But I'm very soft, too. I'm not afraid to hurt. So I'm a real dichotomy of things. I hope people will think they know me. I'd like to be understood.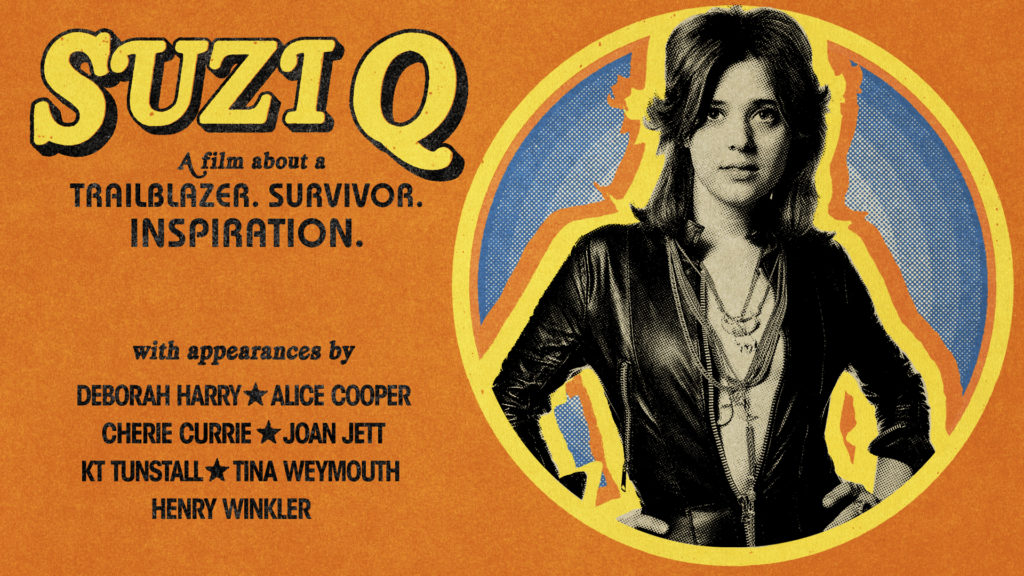 FBPO: There's quite a roster of people paying tribute to you in the film, especially people like Debbie Harry and Joan Jett and the Go-Go's and Runaways who came after you.
Quatro: When people say nice things it makes you cry because it's just beyond…You go, 'Omigod, they think THAT?!' I didn't know how much I meant to everybody. That surprised me. I knew I was the first one and a lot of women came after and they've thanked me for it, but I didn't know how these girls held me in their hearts. I somehow, without meaning to, gave them permission to be who they are.
FBPO: So what's next?
Quatro: Well, I just finished an illustrated book of my lyrics that's at the publisher's now, so that'll be coming out. I'm doing a movie (biopic) of my life, too, since the documentary has been so well received. And of course all my gigs are postponed or canceled, and my son would've been on the road. So I said, "Let's write the next album" and we wrote 14 songs and demoed them during this lockdown. I'm not gonna sit around picking my nose, y'know? That's not who I am."
"Suzi Q" will be released on Friday, July 3, on Video on Demand and home video. A special online screening featuring a Q&A with Quatro, Cherie Currie of the Runaways and Kathy Valentine of the Go-Go's takes place July 1 to benefit MusiCares. Tickets and other information via https://www.altavod.com/content/suzi-q
See Jon's blog, with key takeaways from this interview, here.